Nonin® Avant® 9800 Table top Pulse Oximeter (Import from USA)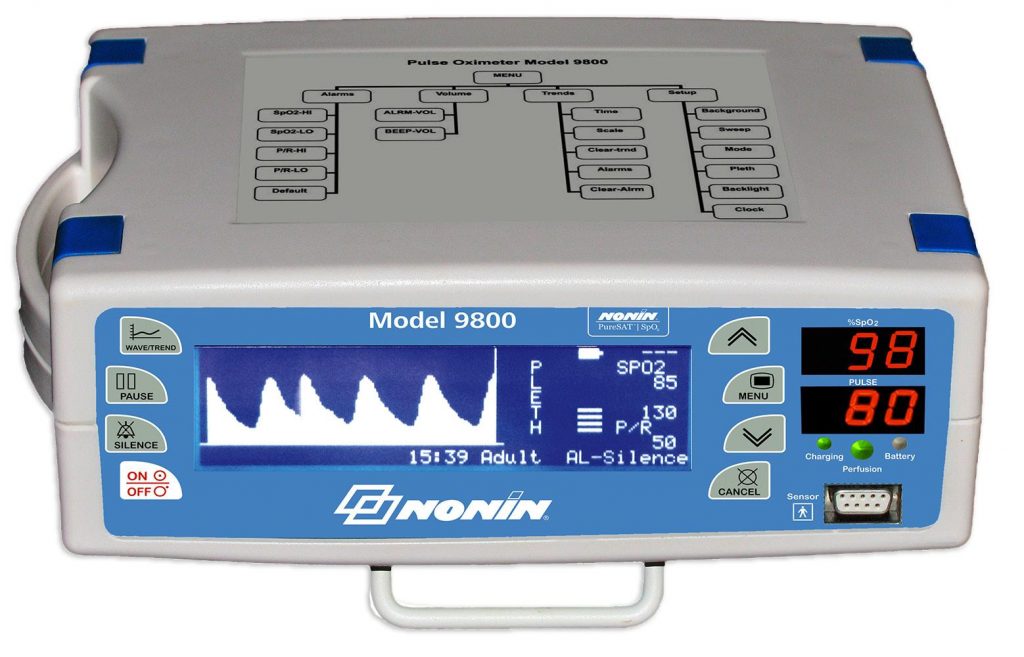 Reliable High Performance
The Model 9800 is a complete pulse oximeter featuring plethysmograph waveform displayed in three wave speeds. Using Nonin Medical's PureSAT® Digital Signal Processing Technology, the Model 9800 provides fast and reliable SpO2 and pulse rate measurements on any patient, from neonates to adults.
User-Friendly Interface 
The bright, easy-to-read LED display includes a ten segment bar graph indicating pulse strength, and pulse beep is sounded for every detected pulse with tone varying according to the SpO2 value. Additionally, the Model 9800 accomodates a wide range of genuine Nonin PureLight® sensors.
Flexible & Versatile Settings
Many features are customizable including high and low alarm limits for all parameters, and alarm and pulse beep volume. The Model 9800 is durable for ambulatory transport, and convenient for hospitals and outpatient clinics.
Key Features
Trends available for 72 hours with 

scrolling

Waveform freeze with scrolling 

up to 60 seconds

3 color perfusion LED status: 

Green (good perfusion), 

Orange (marginal perfusion), 

Red (inadequate perfusion)

Sensor alarm indicates that the 

sensor has been disconnected 

either from patient or from 

oximeter

Built-in rechargeable battery 

back-up of 6 hours

Audible and visual low 

battery indication when 15 

minutes remaining

Power saving mode

Reversible background – light and 

dark