Why you should take part in a Sleep Study test
Do you snore loudly or suffer breathing problems at night? If you suffer some of the symptoms outlined below, you may have sleep apnea and you need a sleep test to prove it. We offer patients to take part in a comprehensive Sleep Study in hospital or at home.
A sleep test can show exactly where your sleeping problem originates, why it happens and how you can improve it. If you think you may have sleep apnea, our scientific Sleep Study test can show what truly happens during the night. Your doctor will receive the sleep test report in just 1-3 days.
Which symptoms indicate you need a Sleep Study?
When snoring happens or breathing stops during your sleep, it may be an indication of sleep apnea.
Major symptoms include:
Loud constant snoring

Cessation of breath during sleep

Difficult to concentrate

Dull reaction?

Excessive daytime fatigue

Deteriorated memory

Morning headaches

Reduced libido

Frequent nocturnal urination (nocturia)

High blood pressure

A dry mouth upon awakening
If you have any of the above symptoms, seek for the doctor's advice soon and arrange a sleep test for a detailed check-up.
Many clinical studies have confirmed that untreated sleep apnea may lead to many health problems such as:
Therefore, if you suspect yourself having sleep apnea, you should consult the doctor and receive treatment immediately.
Homecare Medical's Test Procedure
Be ready in the hospital or at home before 20:00.

The technician will arrive at 20:00 – 21:00 to start the test. Electrode placement takes around 1 hour.

The electrodes will collect various parameters, which include EEG, EOG, EMG, respiratory activity, snoring, ECG, chest/abdomen activities, body position and oximetry etc.

The electrodes will not cause any harm to your body.

Since sensors are placed on different parts of your body, you may feel a bit unnatural at the beginning, so try to relax and fall asleep peacefully will be good enough.

If you have to go to the washroom during the test, notify the technician beforehand. DO NOT attempt to take any sensors off your body as it will affect the sleep study result.

Test report will be sent to your doctor in 1-3 working days. Please contact your doctor for an appointment to get the sleep report result.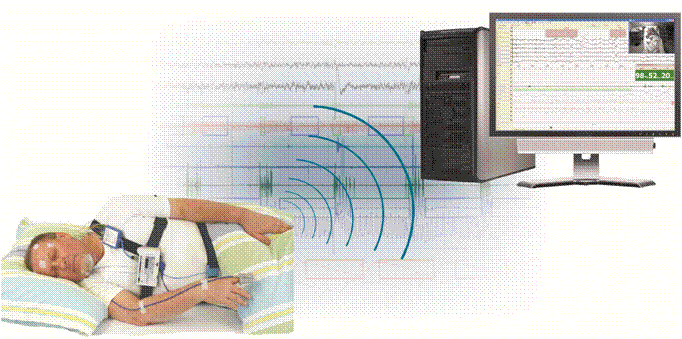 Point To Note
Advise your doctor on the about the medications you are taking prior the test.

On the testing day, keep your usual work or activities during the day. DO NOT take any naps during the day.

DO NOT drink coffee, tea, Coke, soft drinks or any other stimulant drinks 12 hours prior to test.

Please take a shower and have your hair washed prior to test.

For men – Shave.

For women – No make-up.

Wear pajamas that can be opened at the front and of loose style. That will make the test easier to be carried out.

Please bring the followings (if needed):
Personal pillow if you prefer not to use a hospital pillow.

Any toiletries you need before and after bedtime.
Monitoring
SOMNOscreen™ Plus Polysomnography with digital IR-Videometry
*Medical Devices Listing HKMD No.180151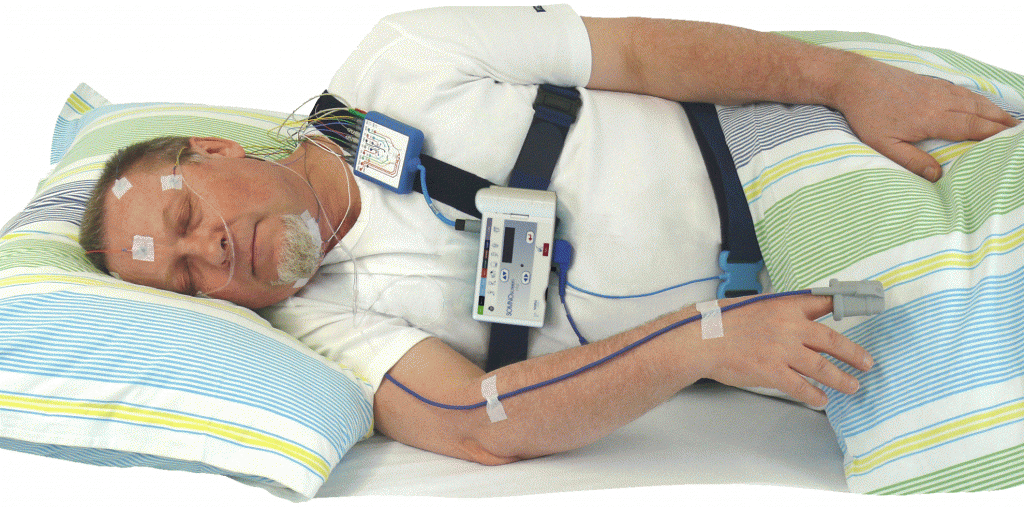 SOMNOtouch™ RESP Respiratory Screening
*Medical Devices Listing HKMD No.180203
Awards and Achievements
Our company is managed by professionals who are Registered Polysomnography Technologists (RPSGT) certified by BRPT (USA), promising to deliver world class sleep diagnostic and treatment services.
Since established in 1993, HomeCare have been working with a number of public and private hospitals, clinics and medical organizations in Hong Kong to provide one-stop professional services for patients with sleep apnea.
For further information or test booking, please call (852) 2402-2188 or visit our shops.
Hospitals and clinics which are interested in getting more information on the above device, please call to make an appointment with our product specialist.