In order to ensure safety and optimal health, professional guidance of the correct usage of medical devices and regular after-sales service is important.  It is recommended to purchase your medical devices from professional and reputable medical equipment suppliers.
Avoid purchasing medical devices from online shops
Online shops/parallel import outlets are profit-minded and often neglect the health and safety of their customers.
A number of Hong Kong government hospitals have received complaints from their patients regarding to the incidents of purchasing medical devices from online shops/parallel import outlets. The complaints include patients receiving faulty devices and online shops/parallel import outlets refusing to refund or exchange goods; disregarding the doctor's prescription and persuading patients to purchase medical devices that are ill-suited to them. The hospitals have strongly urged the patients to stop purchasing medical devices from online shops/parallel import outlets, in order to avoid monetary loss and potential health risks. 
The Medical Device Control Office of the Hong Kong Department of Health has given an advice "What to Consider When You Select, Purchase and Use a Medical Device?".*
*http://www.mdco.gov.hk/english/emp/emp_gp/files/eng_w3c.pdf
An advice mention:
"1. Not every medical device is suitable to be operated by anyone. Beware that some high-risk devices must be operated by qualified or well-trained personnel.
2. Before purchasing any medical device or when in doubt about the promotional information of a device, always consult a healthcare professional to ensure that the device you are going to purchase suits your health condition.
Devices purchased may be substandard, counterfeit, used, or have passed their expiry dates.

There may be a risk of leaking of personal information, such as name, medical records, address and credit card information.

If a problem occurs, seeking replacement or refund may be difficult.

You may not know about product recalls involving the device being conducted overseas."
Please keep in mind that online shops/parallel import outlets are not recognized by the manufacturer, and thus, they do not know how to instruct the correct usage of the products. Moreover, online shops/parallel import outlets do not monitor the progress of the treatments. Therefore, there is no assurance that patients can receive optimal and effective treatments.
If you have any questions, you can consult your doctor or healthcare provider.
How to choose a trusted medical devices supplier : https://homecare-medical.com/en/choosing-a-supplier/
Below are the lists of before and after-sale services provided by The HomeCare Medical Limited.
Comparison: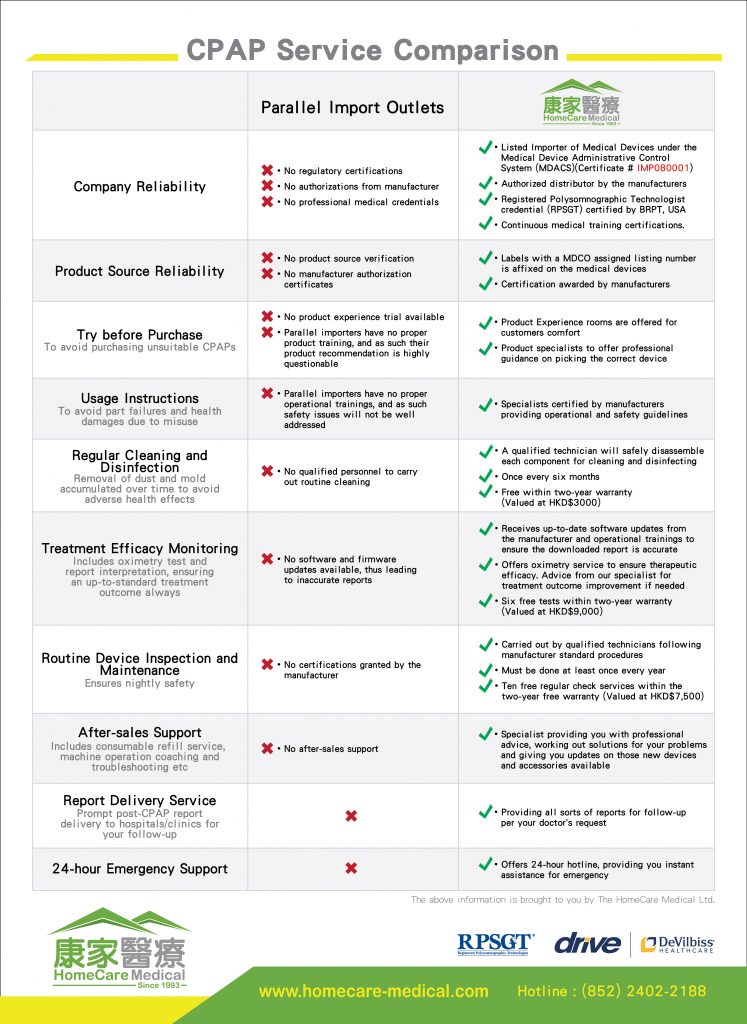 The listing of an importer carries no implication that its medical devices are listed.