Laryngopharyngeal Reflux Test
The test is used to check whether one suffers from laryngopharyngeal reflux or to evaluate the drug effectiveness against laryngopharyngeal reflux.
Test Procedure
Restech is the first and only medical sensor able to measure and chart real-time, continuous pH in both liquid and aerosolized states, revealing reflux-related etiology of presenting symptoms.

By using the advanced Restech pH sensor probe, no anesthesia is needed. Eating, drinking and routine activities can be done as usual during the test.

The pH sensor probe will be put into the throat through the nose by doctor.

The sensor monitors pH value of any liquid or vapor at the throat and the frequency, severity and duration of gastric reflux at the throat for 24 hours.

For further enquiries about this test or test booking, please call (852) 2402-2188
Clinical Studies
Validation study – Oroparyngeal pH monitoring device  
Users Reference  
A new technique for measurement of pharyngeal pH normal values and discriminating pH threshold  
Clinical studies using Restech  
Effects of PPI therapy for laryngopharyngeal reflux on post treatment symptoms  
High Economic burden of caring for patients with suspecte EER – The American Journal of Gastroenterology  
Pharyngeal pH monitoring better predicts a successful outcome for EER symptoms after antireflux surgery  
Other related publications 
More Information about Laryngopharyngeal Reflux
What is laryngopharyngeal reflux (LPR)?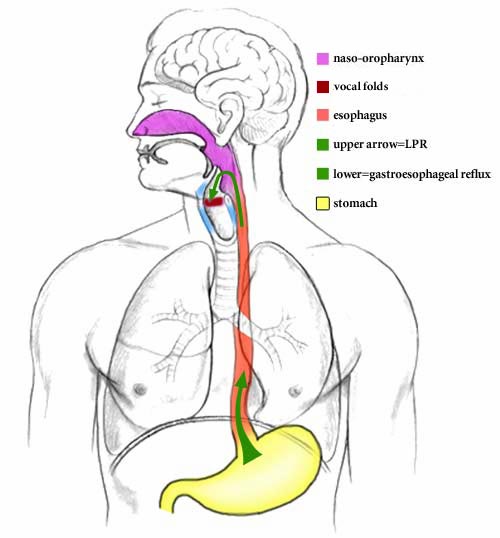 Laryngopharyngeal reflux refers to the flow of stomach contents (gastric contents) beyond the muscle ring of the top of the digestive tract (upper oesophageal sphincter) and to the back of the throat and the nasal airway (larynopharynx), causing mucosa inflammation and thus various types of respiratory symptoms. Some people may have sound hoarseness, chronic cough and throat clearing etc. The reflux occurs more often when awake than sleeping.
Symptom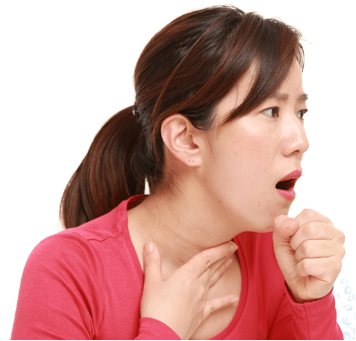 As for infant and children, the symptoms include:
Cough

Hoarseness

Asthma

Sleep-disordered breathing

Feeding difficulty

Pauses in breathing (apnea)
Treatment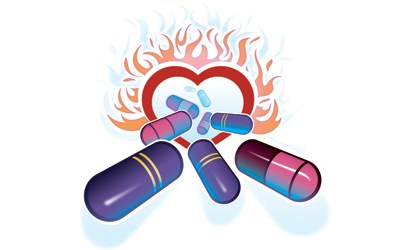 Drug therapy – Acid suppression with proton pump inhibitors

Changing of lifestyle
Avoiding eating too rapidly

Avoiding heavy meals

Avoiding having meals at night lately
Anti-reflux Surgery
What if LPR is ignored?
Oesophagitis

Narrow oesophagus – narrowing or tightening of the oesophagus

Throat and voice hoarseness

Asthma or pneumonia

Oesophageal cancer
For further information or test booking, please call (852) 2402-2188 or visit our shops.
Hospitals and clinics who are interested in getting more information on the above device, please call to make an appointment with our product specialist.
Awards and Achievements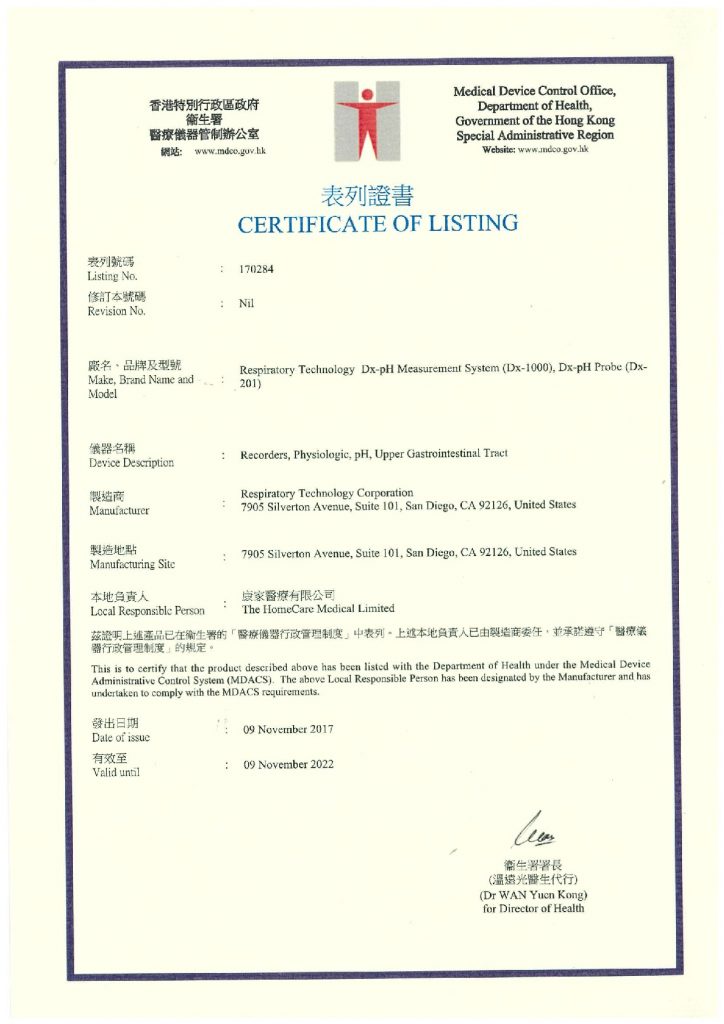 Certificate of Listing-Restech Dx-pH Laryngopharyngeal Reflux measurement system
*Medical Devices Listing HKMD No.170284