DeVilbiss® UltraNeb Ultrasonic Nebulizer (Import from USA)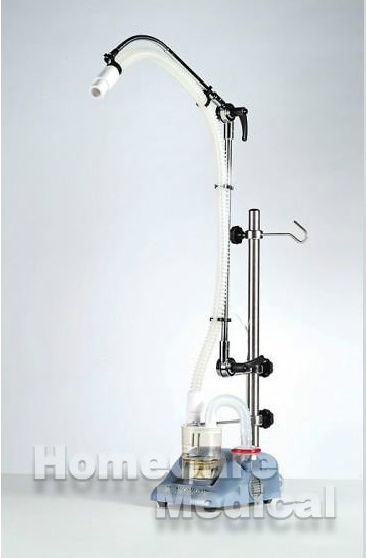 The UltraNeb is a high output ultrasonic nebuliser used for humidification, sputum induction and aerosol therapy.
The UltraNeb features four adjustable airflow output settings, an integrated medication timer and adjustable nebuliser rate for greater flexibility. It can be configured to suit a variety of continuous filling systems, can be wall mounted with the optional rail clamp and is also available as a desktop model or with 5 foot stand. For added patient comfort, heated tubing is also available.
The UltraNeb also includes four audible alarms, indicating that the chamber is not correctly attached, the chamber is empty, that the medication time is complete or device failure.
Benefits
Removable transducer can be easily replaced

Low power consumption

Quiet operation
Features
Timer function: 0, 15, 30, 45 and 60 min

Air-flow output with 4 adjustable settings

Adjustable nebuliser rate

Separated air path for patient and device cooling

Integrated Alarm functions – chamber is not attached, chamber is empty, medication time is complete or device failure

Adjustable voltage to suit 110V, 127V or 220V

Suitable for most sterile water systems

Available as a desktop model, with 5 foot stand or wall mountable with the optional rail clamp

Autoclavable chamber
Specifications
Dimensions (H x W x D): 19.0 x 20.5 x 31.5 cm (incl. Rail clamp)

Weight : Approx 3.5kg

Nebuliser rate: 3ml / min

Air flow: max 20 l/min

Particle size: < 4 μm

Aerosol temperature: max 37 ºC

Ultrasonic frequency: 1.68MHz

Sound level: 35dB(A)

Electrical requirements: 110, 127, 220V; 50/60Hz

Power consumption: 50 watts (without heated tube), 80 watts (with heated tube)